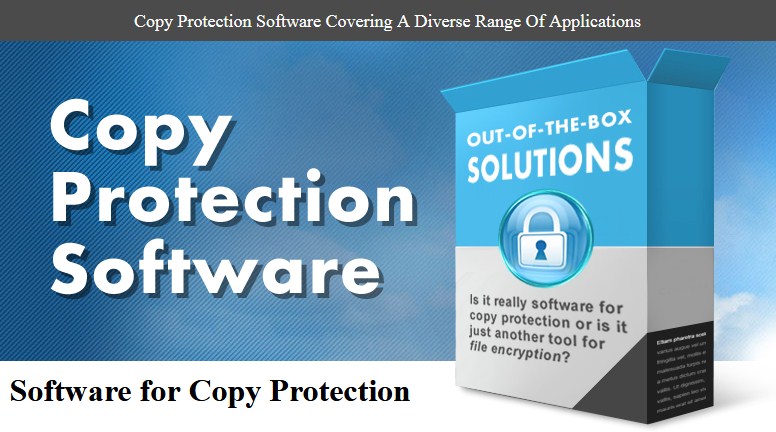 Copy Protection Software for Documents
When it comes to the Copy Protection of images, are those images to be protected distributed on disk and email, or are they displayed online from a web site? How those images are used/distributed makes a great difference as you can only do what is possible.

If you need to copy protect images distributed on disk and by email then the user will be able to save those images to their computer for local viewing at any time and also forward them to others. For this scenario you will need to protect the images display while being viewed, and we have already discussed the uselessness of file protection. So you need copy protection sofware that protects the image while on display that works regardless of where it is used from, for example on the user's computer and the computer of anyone who they send it to.

Alternatively if the image is to be displayed online then its treatment needs to be very different. To copy protect images on web pages while viewed in a web browser we need to prevent it from being saved using all of the techniques and tools available to web browsers.


Copy protecting images for local view
You cannot do anything directly to an image that will protect it, but you can encapsulate the image into an application that can control how it is displayed and when. Such a secure image viewer may also use image encryption, password protection and expiration. Performing a web search will yield a lot of image viewers for local use but none that copy protect the image from all save and copy including printscreen and screen capture, but that's mainly because the only company that can provide such absolute copy protection does provide software for this instance but it's not known as an image viewer.

By publishing your images in PDF format Copysafe PDF Protector can provide the most secure copy protection from all copy and save including Printscreen and screen capture. You also have the option of using password protection and expiration. CopySafe PDF also supports document rights management (DRM) so that you can limit who can open the document, thus preventing any unauthorized use by controlling copies forwarded to others.


Copy protecting images displayed online
Copy protecting images displayed on web pages cannot be successful without employing image encryption. It is only image encryption that can prevent direct access to an image stored online and ensure that the image is displayed using the method intended for its copy protection. And the only solutions that are capable of displaying encrypted images online come with and without protection from screen capture.

For example Secure Image is copy protection software for images online that is supported in all web browsers on all operating systems. Secure Image encrypts images and displays them in a special security applet that employs domain lock. Images encrypted Secure Image can only be displayed from the web site that they were designated.

Alternatively, for copy protection software that protects images online from all copy and save including screen capture, you can use CopySafe Web. CopySafe Web uses image encryption similar to Secure Image but it extends its protection through the use of a web browser plugin that is supported in all web rowsers across the Windows operating system.

But for online protection of images, and anything else displayed on web pages, the ultimate solution is to use the ArtisBrowswer. The ArtistScope Site Protection System (ASPS) provides copy protection for web pages, images, Flash, PDF and video that is far superior to anything already available or imagined. Unlike normal web browsers, the ASPS Web Reader has been specially designed to copy protect web content rather than expose it. While displayed in the ArtisBrowswer anything on the web page is most securely protected from all avenues of capture including screen capture and screen recording.